Hedgehog Over Petticoat
Making of the Over Petticoat
Since the over petticoat has a different purpose than the under petticoat, it requires a different pattern.
We are using a Wingeo pattern for both our over petticoat and gown.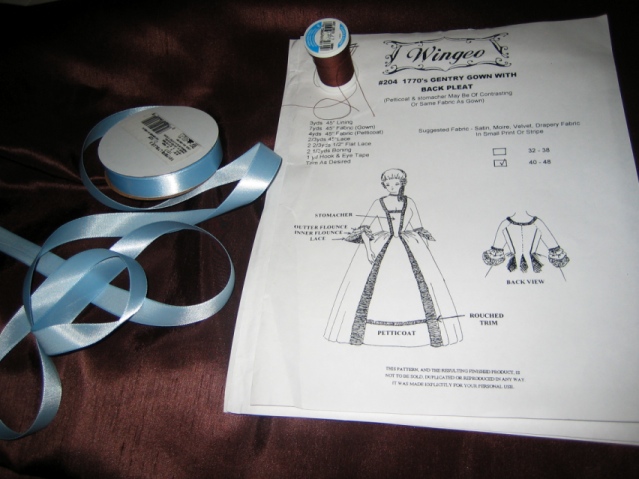 For the over petticoat, I used a chocolate faux silk shantung fabric and pale blue ribbon.
This skirt is a little more complicated than the under skirt. It has a front piece, a back piece and two ties like the other; however it also has two side pieces and a more complicated hemline.
The Wingeo pattern is also a little less detailed. It expects you to be experienced and fill in any blanks.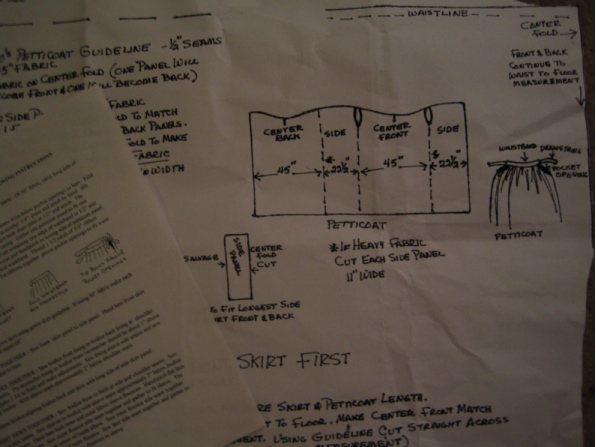 For example, I had a challenge cutting out the side pieces because there wasn't a pattern for it. Ofcourse, if I had read the front/back pattern carefully, I would have seen exactly how to cut out the side pieces. Key work here - "had".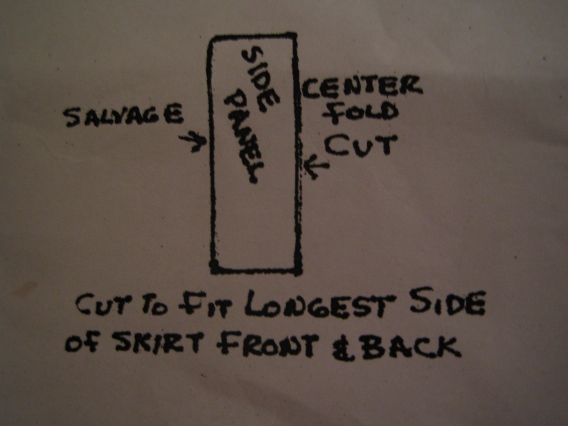 Instead of cutting the side pieces to fit the "longest" side of the front/back skirt pieces, I cut them to replicate the front/back pieces which have a long side and a short side.
Ooooops.
After making a mad dash to Joann's and picking up some more brown fabric, I had a change of heart and decided to just "fix" the side pieces I already had. I only needed to sew back on the pieces that I had cut off the short sides of the side pieces. I made sure that the "fixed" sides of the skirt are in the back where they'll be covered by the back of the gown. Even if we polonaise our gowns, the patches should not show...
Here's a picture of the back where you can see one of the fixes.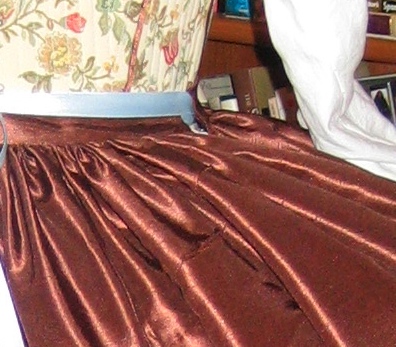 Once I finished sewing all of the pieces together, I gathered the tops and attached them to the waistbands. Here's my gathered back.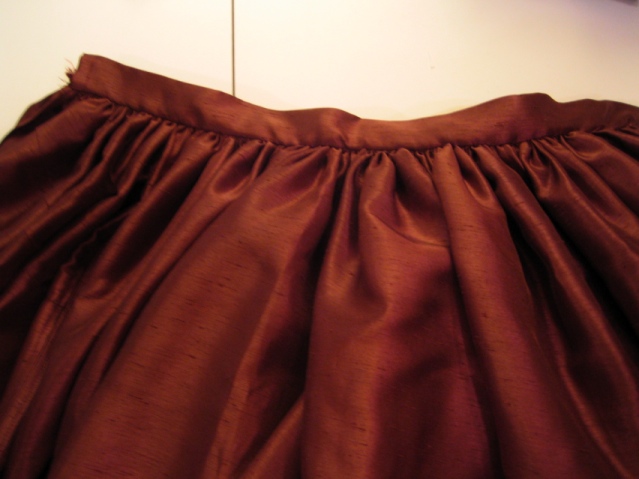 Here's my gathered front.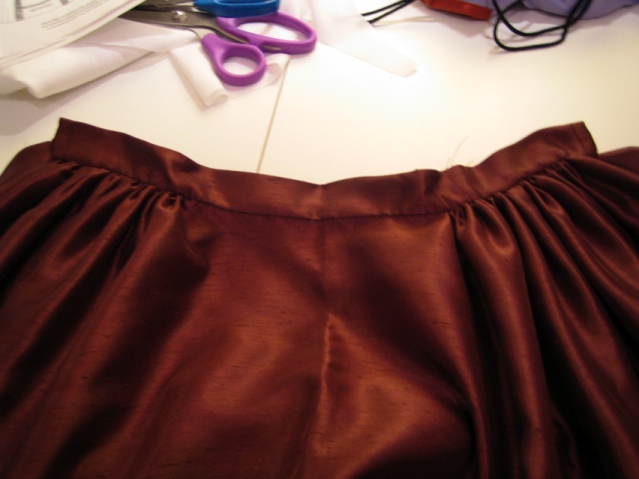 The pattern has you gather instead of pleat, but I didn't want alot of gathers showng under my stomacher, so I decided to leave the front flat and start the gathers on the side. I'm not sure if this is historical, but it's what I wanted.
Sewing the hem was a bit challenging. I worked at making the hem the same length from the floor on all sides. Here's a pic of my pinned hem.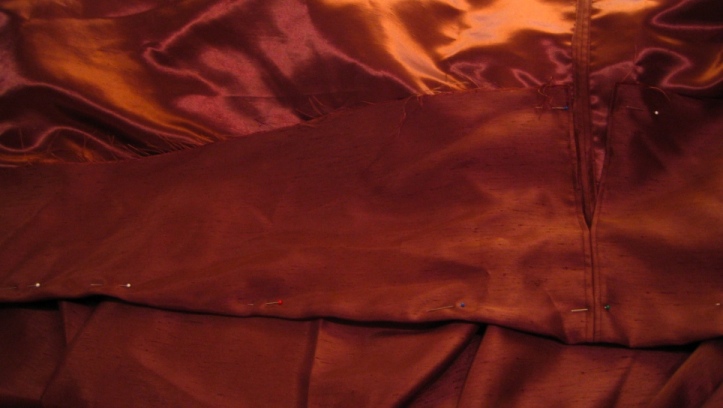 Once I was satisfied with my hem, I basted it in place, cut off the excess and sewed my blind hem stitch.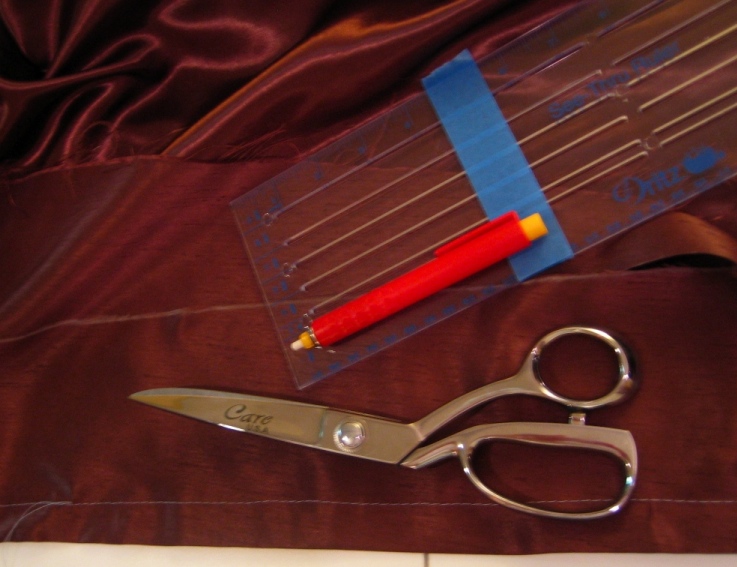 The last thing to do was to thread the waistbands with my pale blue ribbon ties.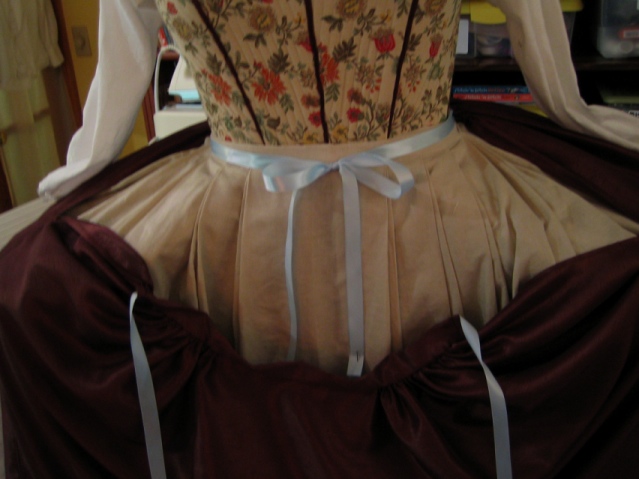 And here are photos of my finished over petticoat.